Big Deal – 7/6/16 (John Henderson)
Something happened at our hospital a few weeks ago, and I've been thinking about it ever since. What I love the most is how normal it seemed.
Here's the story:
We have a patient who likes to go fishing. He's been getting infusion treatments at CRMC for a while, and the drug is uncommon, so it requires a special order and UPS delivery.  A recent delivery was expected to arrive on either a Friday or Monday.  He called our pharmacy on Friday morning to ask if we had it…said he'd sure love to get it done so he could go on a fishing trip…he'd just stay home if the treatment were delayed until Monday.  No big deal.
So pharmacy calls purchasing, and purchasing finds the UPS truck. Our package was on board, but the truck was in Wellington and scheduled to make deliveries in Memphis before arriving in Childress late on Friday.  That could have been the end of it…we tried.
But a purchasing employee jumped in her car, met the UPS truck, and brought the medicine to Childress in time for our patient to get the treatment and go fishing. When I thanked her, she said, "I just figured an hour of my time would put him 5 hours ahead and give him a chance to do something he wanted to do."
Hospitals like CRMC exist so sick people get a chance to do some of the things they want to do. So this story was no big deal, but also a really big deal.
"The measure of a life, after all, is not its duration but its donation." – Corrie Ten Boom
Note From Chairman John Henderson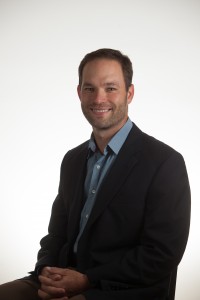 On July 13th, the House Committee on Appropriations will hold a hearing on its interim charge to "study the trauma system in the state of Texas, including financing." I have been invited to testify as part of a panel on the challenges for rural residents and facilities. My hospital, Childress Regional Medical Center, is a Level IV trauma facility. The nearest trauma hospital to us is in Lubbock, more than 150 miles away. Only in Texas could you put "nearest" and "150 miles" together in a sentence.      Clearly, there is no shortage of challenges to accessible trauma care, not just for rural areas but for urban ones as well. The Houston area, for example, should have six Level I and II facilities to serve its growing population. However, currently, it has just two.      Chief among the challenges are financing and reimbursement. Becoming a designated trauma facility and maintaining the level of service required are expensive. Staff, equipment and supplies all take significant funds. One estimate puts the average annual cost of supporting a Level I or Level II trauma center at more than $20 million.      And that's before the cost of delivering trauma care. Collectively, Texas trauma hospitals have more than $300 million in annual uncompensated trauma care costs. This isn't too surprising given the persistently high rate of uninsured in Texas. And trauma does not discriminate. It affects the insured and uninsured alike.      Some of this cost is offset by approximately $55.5 million in state payments. But that leaves almost $254 million in unreimbursed care costs.      We need a solution to this problem.      When I testify on the 13th, I'm going to share Mike's story with lawmakers. Mike fell off a ladder at his friend's ranch about 25 miles outside of Childress. By the time he got to our emergency department, he had lost blood and was in a great deal of pain. Our team stabilized him and prepared him for transport to a Level I trauma facility that would do the necessary surgery. Had our facility not been staffed and equipped to respond, Mike's treatment and recovery undoubtedly would have been much more difficult.      Mike is just one of the many patients we have cared for who have experienced trauma. These are real people with real families. So while our challenges are primarily financial, the impact is personal. This is the message I will deliver on the 13th and the one I encourage all of you to share with your legislators.
John Henderson CEO, Childress Regional Medical Center Chairman, THA Board of Trustees
Two Good Patient Stories – 3/21/16 (John Henderson)
At Childress Regional, we're trying to do things that have impact…things that really help people.  So I was proud of our hospital at least twice last week when:
1. We were paid a visit by a patient who stopped by to say thanks.  She was very sick when we transferred her earlier this month.  She remembers her baby being born, but nothing until 3 days later. Her mother remembers it all and sings the praises of CRMC staff for "saving my baby girl" and added "rural hospitals don't get enough credit."  This medical condition came with an 80% mortality rate and this patient received 10 units of blood (the human body contains about 6).  Both the mom and daughter said the receiving hospital told them our clinicians' actions saved her life.
2. A local family went to CRMC's facebook page to brag on our telemedicine pilot project. Instead of driving to Lubbock, this dad was able to visit with his oncologist at Fox Clinic.  His wife posted, "Childress really is the best place to live!"
"Getting Back to the Basics- Balancing Quality and Cost in a Community Hospital" – Dr. Steve Berkowitz
http://www.smbhealthconsulting.com/2015/02/getting-back-basics-2/
The Little Things – 6/17/14 (John Henderson)
There are 2 letters on my desk this morning that serve as good reminders of why we are here. 
From a cancer patient –  It's too long to publish in entirety, but his story is one of fear, frustration, complications, and poor treatment at urban hospitals.  Kris lost insurance coverage and was denied treatment in Dallas.  He said, "I was just another number."  In near desperation, he reached out to us.  He says he asked Kathy Ivy detailed questions about the treatment and "she answered them with ease."  Plus "she called me back and she knew my name!"  And when he asked a question she couldn't answer, her response was "I can find out for you."  He wrote last week to say "Dr. Cobos has me in remission, and Kathy is keeping a close eye on me."
From the wife of a patient…addressed to Dr. Green and the ER staff – last November, her husband became very ill while at a Matador with a son and grandson on their deer lease.  We transported him to Wichita Falls, and he passed away a few days later.  Her letter says, "my family would like to take this opportunity to say thank you to you and your staff for your utmost dedication to the care of Jim.  Also to the ER nurses that took care of our seven year old grandson who was very worried about his "PawPaw".  Jayden was tired, hungry, and scared and the nurses took him and cared for him…our son, Cade, explained how you and the staff at CRMC were so helpful and supportive while Jim was in your care.  There are not enough words to express our gratefulness for his care."
An Employee Example of Stoicism – 5/8/14
Let me provide a little introductory context: our operating room, labor/delivery unit, and ER are covered by a single CRNA.  We have always covered anesthesia services with 2 CRNA's who split coverage – 2 weeks on, 2 weeks off – come what may.  More accurately – there only one anesthesia provider available to anyone for any reason within 60 miles of Childress on any given day….a truly rural phenomenon.   Most of the time, the workload is manageable, but long weeks aren't uncommon.  Our busiest surgery days are generally Wednesdays.
For the last couple months, our CRNA coverage has been provided by a pair of brothers.  They have been outstanding, but we knew a family emergency would be problematic…we just didn't get contingencies set up fast enough.
This Wednesday, between surgical cases, our CRNA stopped by to tell me he had learned his dad was in ICU at an Abilene hospital. Within an hour, he texted to let me know his father had passed away.
This is not a story about decisions or priorities…there is no correct answer in a situation like that.  It's a story about stoicism when a person understands their responsibility and is willing to bear the load.
My priority that day was to get a relief anesthesia provider to Childress ASAP.  When I went around to update Dennis, he stepped out of the ongoing case, asked me to pray for his family, told me he intended to work, and promised to keep me posted…then went right back into the OR to meet his obligation to our team and our patients.
Let that sink in…I'm not sure I could have done what Dennis did.  There was obvious sorrow, but no drama.  Just duty because he cares about what we do and knows it's important.
I lay in bed that night and prayed for the family.  But my prayer included thanks – for getting to lead an organization made up of people of Dennis' caliber. – john
Attitude  – 3/25/14 (by John Henderson)
It's really easy to focus on the negative.  It has never been harder for independent, rural hospitals to justify our existence.  And there are almost daily occurrences that could cause us to give up and walk away…another payment cut, an unfortunate patient outcome, or a person who violated our trust.   But we have to remember that attitude is a choice, and then continually choose to focus on the important and encouraging work that goes on at our hospital.
There are two reports that have helped my attitude today:
In the last 2 months, we have had only 2 employees choose to leave CRMC.  If that holds up, it would equate to an annualized turnover rate of < 5%.  It's also an indication – I think – of an engaged staff who understands the responsibility that lies in caring for a community.  And it demonstrates our team is up to the task.
We saw our most recent patient satisfaction survey results this morning, and it might be our best report ever.  We are in the 90th percentile nationally, or at least 10% above the national benchmark, in every single question.  That isn't just good…it's great – in every single area for every single patient every day.
That's good work from impressive people with purpose. They have chosen to have a good attitude and make difference…what about you?
Always Culture – 3/5/14 (by Michille Delgado)
When I think of the great inventors of the world Ben Franklin and Thomas Edison immediately come to mind.  But, there was another figure in American history who gave up fame and fortune to make this world a better place.  You may have heard his name before but we can thank Nikola Tesla for taking electricity to the next level – among many other things. He was so passionate about his work that he forgave a $150k debt owed by an investor.  What are your passions?  Do you come to work each day with vision, creativity, integrity and a willingness to make CRMC a better place?  Imagine what we can accomplish when we are not selfish in our pursuits.  Patients come to us sick, hurting, scared.  Are you passionate about their recovery?  Healthcare organizations are facing a fork in the road.  One one hand, we can go down the road of tradition because "that's they way it has always been done." We can choose to be lazy or complacent – and close our doors.  Or, we can choose to enthusiastically serve each other and our patients.  That is the road that will transcend patient satisfaction surveys and become an "Always" culture.
Fair – 1/28/14 (by John Henderson)
I've always struggled with the concept of fairness.  Fair is the goal for most everyone I know, but fair is also a common complaint when things don't go our way.  Total fairness usually doesn't happen – nor is it promised – so achieving it is tough.  Complete fairness would require us all to catch the game winning touchdown pass in the Super Bowl, but it would also require all of us to lose a child tragically…most wouldn't take that deal.
The reason I'm thinking of these things is that I met a guy last week who is remarkably similar to me.  But I've been fortunate and life hasn't been fair to him.  He is a 40 year old married father of 3 (like me), and his kids' ages match mine.  He's a small town guy, and at one time was the largest employer in his county.  But his business got over-leveraged and had to close.  Then he received a stage IV colon cancer diagnosis. He had Medicaid coverage that lapsed when he started getting disability payments of $781/month ($9,372/year for a family of 5).  So he has no treatment option because he has no insurance coverage, and he is broken.  That's not fair.
I met him at the public library (he doesn't have in internet connection at home) to explore his options through the new healthcare exchange.  Our hospital – thanks in part to our governing board's impressive vision – is trying to figure out a way to take care of this guy.  His physician says the care won't be curative, but he deserves more time.  We won't achieve fairness in this case, but I'm proud to be part of an organization that works to bring things closer to balance.
Changing Habits – 1/20/14 (by Michille Delgado)
Mark Twain said, "If you always do what you've always done, you'll always get what you always got."  This is certainly true of our health habits.  We all start off with good intentions and maybe stick to a diet or exercise plan for a while until our resolve wears off a little or we go to a birthday party and eat all the leftover cupcakes.  Maybe you gave your plan all you had and fizzled out when the results weren't as dramatic as the effort.  We go back to our old ways and our old weight follows and usually brings a few more friends.  Habits are not easily broken.  What is your bad habit trigger, what do you do about it, and finally how could you address your trigger in a healthier way?  We want big change and we want it to come easily.  But real and lasting change doesn't tend to happen that way.  Dripping water will erode an entire mountain without the mountain even noticing.  So, instead of trying radical change, make one small decision each day…and then the next…and then the next.
Who are the Heroes? – 12/30/13 (by john henderson)
You probably saw media coverage of the event: http://abcnews.go.com/US/batkids-make-transformed-san-francisco-gotham/story?id=20899254. Thousands of San Francisco residents and officials rallied around a 5 year old leukemia survivor named Miles Scott, whose Make a Wish dream was to be batkid.  They staged fake news releases and crimes throughout the city then cheered him on…even presented him the keys to the city.
I used to believe – mistakenly – that heroes were athletes or national leaders who inspire us all during moments of high drama and tension.  The truth is those moments are very rare (and getting more uncommon).  I'm learning true heroes are much more common, more casual, and more consistent.  It's the patient who demonstrates courage and faithfulness in spite of a bad prognosis.  It's the staff member who does their work plus a little extra every day because they know it matters.  It's the volunteer who works all week, then spends their evenings or weekends in service to others.  It's the single mom who makes sure her kids have what they need and know they are loved…every day.  It would be hard for us to give those people – the super heroes – too much credit.
He will be missed/A True Healer – 12/27/13 (by john henderson)
Next month, the president/CEO of the Texas Hospital Association will retire after 6 years in that statewide leadership position…one of the hardest jobs imaginable.  I had never met Dr. Stultz prior to his tenure at THA, and only learned he was a medical school classmate of my Dad's after I dropped our hospital's membership (funny story).  I regret that, because Dr. Stultz has done a remarkable job of representing the industry – all hospitals – including rurals.  It will be virtually impossible to replace his perspective and grasp of the issues as a physician, healthcare executive and advocate.
Dr. Stultz said things about leadership that stuck with me like "Leadership is learning faster than the world is changing."  But it was something he wrote about physicians that I reflect on most often. I expect he was writing from a perspective as a hospital leader, reflecting on the personality types he encountered.  But I also think "the complete package" below is how many would describe Dr. Stultz:
"Some physicians become just doctors – hardened, sour, pessimistic, and burned out.  Other physicians set a pace, set a tolerance, and/or barrier between the practice of medicine and the emotion of medicine.  Some physicians never engage the emotion, are scientifically smart and appear cold, detached, uncaring, but smart to the patient.  They are incomplete as physicians, but may be a good "doctor". Others still become "partial glimpses of the full fruition."  Finally, we have all known those doctors who are the complete package – a true physician, loved and respected for his or her warmth and compassion and with the "art of medicine" skill.  Heroes of us all, these physicians are usually too modest about their art.  They are a level above the crowd; they are true healers."
Who gets the credit? – 12/27/13 (by john henderson)
It's a little irreverent, but I've joked with my office recently about credit and blame.  I say, "who gets the blame when we have a bad patient outcome?"  The answer, obviously, is our hospital.  Then I follow by asking, "who gets the credit when we have a great patient outcome?"  The answer, usually, is God.  I laugh and say that's doesn't seem fair.
Just so you know, I believe God deserves more credit than we give him for the good parts of our life…those things we call "weird" would probably be more accurately described as "providential".  I'm also aware of no scripture that should cause us to have an expectation of fairness in this life.  That would allow everyone to win the championship trophy, but it would also require everyone to have cancer or lose a child.  When you get right down to it, we don't want fair.
Back to the point: Ronald Reagan said, "there is no limit to what you can accomplish if you don't care who gets the credit."  That's one of my favorite quotes.  At the end of the day, great patient outcomes, outstanding stewardship, and overall community health are what we're after.  And I doubt anyone at CRMC spends a lot of time tracking the press clippings.  Whether it be God, or CRMC, or a lucky rabbit's foot that gets the credit is mostly inconsequential.  What matters is we're here, we're carrying out important work as well as we ever have, and there is still an overwhelming amount of work to do.  We're getting better, no matter who gets the credit.
Focus and Relax – 12/27/13 (by john henderson)
When I was growing up, I wanted to be a baseball player.  That didn't work out, but I still enjoy the game.  One of the things I like watching most is a good hitter in a pressure situation.  Think about what it takes to succeed in the 9th inning of the World Series.  The answer (I think) is a combination of focus and relaxation.  You've got to block out the crowd, but you've also got to be able to move your hands and bat to the ball, quickly and accurately.  Focus and relax – very few people are good at both, especially simultaneously.  But that's what it takes – both concentration and calm.
It's that way in any high stakes activity, and hospitals are a place where people can be tested under intense pressure.  Some people lock down, others thrive.  I remember a Friday morning years ago when a school bus filled with basketball players ran off the road and we were the receiving hospital.  The moments that followed flew by, and our team was amazing.  I'm proud to say everyone was able to keep their wits – with Dr. Caldwell leading by example – and rise up to meet our obligation to those kids.
That's the way things work in rural healthcare.  We have days or weeks of very manageable volume, then in a flash, we are overwhelmed.  Averages are deceiving.  Trends are helpful, but they don't reveal what tomorrow holds.
We had 205 deliveries at CRMC last year.  That's 0.56 births per day, and our total has dropped for 5 consecutive years.  The rest of the story is that we are 100+ miles from the nearest hospital with an OB unit, and there's no such thing as 0.56 babies.  We go a week with 1 delivery, and then deliver 15 the next.  We have 6 labor and delivery suites, and a couple times each year, there is no room at the inn.
We also have 2 operating rooms, but we only staff 1 crew of nurses and a single CRNA.  That's the way it has to be because of our low volumes, and it almost always works out, but we do have some close calls.  This morning, our worst case scenario happened.  We had a major orthopedic procedure in the OR l- those can last several hours.  Our L&D unit had a laboring mom that our nursing staff feared would need to go to surgery, when in came a 35 week mom with breech presentation, in need of a stat c-section.  Just to make things a little trickier, 3 of the 5 local physicians who still have OB practices were out.  That's tough.  That's when people have to focus, but that's also when the human tendency is to panic.
But this story has a good outcome.  The orthopedic surgeon closed his case quickly.  That patient literally crossed gurney paths with the c-section mom on the way to recovery.  The c-section delivery went well.  And Dr. Green came over from his clinic to deliver the laboring mom without having to take her to surgery.
For the record, that's 2 successful surgeries and 2 healthy babies in one jam-packed hour on a Friday morning in a sleepy little Texas town.  All because this is more than just a job for almost everyone who works here, and when tested, our people have the ability to simultaneously focus and relax.
Cancer Care – 12/23/13 (by john henderson)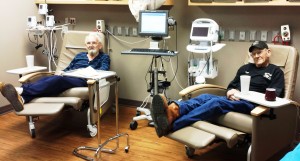 Local cancer care is the CRMC service I'm most proud of, and it's a privilege to think we get to play a part in easing a burden for a rural, isolated population.  It's also validating to see the way the program is gaining momentum and recognition.  Dr. Cobos and the people at Texas Tech/UMC/Southwest Cancer Center have been remarkable partners.  Dr. Cobos was in Childress last week, and saw 10 new diagnosis cancer patients in his clinic.  That's 10 people (and 10 spouses and 10 families) who won't have to make the drive…that's awesome.
I don't get out and walk around the hospital as often as I should, but when I do, I love to hear our patients' stories.  I walked through the cancer treatment area last month, and it was the first time I had seen 2 people receiving treatment at the same time.  They knew each other, and had actually been rattlesnake hunting together years ago, so they were making the most of an unfortunate reunion.  I prompted them to tell me about their hunts, then just sat back and listened as they shared and entertained.  One told me what he loved about hunting rattlesnakes: when you are near a live den looking for snakes, it tends to clear your mind.  You put your cell phone up, you don't worry about money or what someone said to irritate you.  You are completely focused on the task at hand.  I loved it, and the other guy could tell, so he did his best to raise the bar by telling me about the time he found an orphaned bobcat kitten.  He took it in and had it declawed.  He actually kept it on a leash in his pickup truck when he ran errands around town (can you imagine loading groceries next to a truck with a live bobcat in the bed?).  When he'd get home at night, he'd put on welding gloves and play with a full-grown bobcat in his living room floor.  Amazing – you just don't get to visit with people like that in the city.
But in all seriousness, these are people who deserve access to the same care urban residents might tend to take for granted.  Finding ways to help them is one of the things I love most about our work.  And I draw encouragement from a response to the question "what are you thankful for?" I read from Charmaine Yoest recently: "I surely wouldn't have chosen cancer for me or my husband.  But through sickness and sorrow, I found healing, unknown friendships and love.  Life is not perfect.  But it is lovely.  I do not have what I planned.  But I have immeasurably more than I could have asked or imagined. For that, I'm thankful."